You've Got Questions, We've Got Answers
by NW Storages on 07/08/18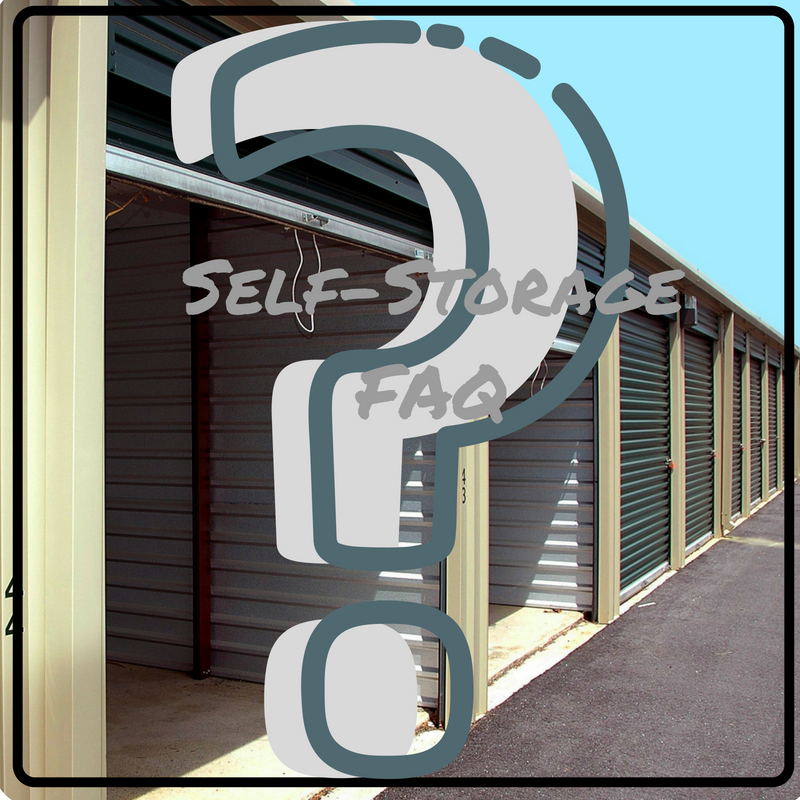 Self-storage can be a valuable tool for your life, but it can also be a little confusing. Here are answers to questions or concerns first-time storage customers may have.
When you need to use self-storage, for the long term or just a couple of months, you want to know what to expect. To help you with that, here are answers to the most common new-customer questions about self-storage. Please note, not all information applies to all self-storage companies so be sure to ask these questions when choosing a specific storage company so you can be sure of their policies.
When is my space rent due?
Storage companies tend to run along two lines with regard to your due date. Be sure to clarify this issue when you sign your storage agreement so you can avoid late fees or other penalties.
Some storage companies will want you to pay on the first of the month, regardless of when you started storing. Your initial rental payment will normally be prorated until the end of the current month, and your full rent amount will be due on the first.
Other storage agreements renew on the date you sign and your rent is due on that date every month. For instance, if you sign your agreement on the 14th of June, you'll pay for an entire month and your next rent payment is due on the 14th of July, then August and so on.
How long do I have to rent for?
When you rent storage, be sure to pay attention to this part of your agreement. Many companies offer a month-to-month rental with no minimum term required beyond the first month. Other companies will require that you rent for a specific length of time; there may even be a penalty for vacating early!
If you know you only need short-term storage, or if you are unsure of how long you may need your unit, a month-to-month storage contract is what you want.
What methods of payment are available?
As a general rule, the majority of storage companies will accept cash, checks, and most major credit cards; these may include Visa, Mastercard, American Express, and Discover. Some also offer automatic credit card payments and platforms for online payment which you can generally find on their websites. Again, ask about accepted methods of payment when you sign your agreement.
When will I be able to access my unit?
Your storage contract will list both office hours and access hours, which are usually different. In many cases, you'll be able to enter your unit every day of the year, during the specified hours; a few storage facilities will limit access on some days like holidays or Sundays, so if you are unsure, you'll want to ask.
Do I need insurance on my unit?
Most storage companies have insurance on their property, but this will not cover your goods. Your storage contract will usually address this fact and advise you that yes, you do need insurance. Fortunately, you probably already have protection for your belongings and won't need an additional policy.
If you are a homeowner, your home insurance policy likely covers items you keep in storage. Check before you rent storage and bring your policy with you when you sign your agreement. Renter's insurance may cover stored items, too.
If you haven't already got a policy to insure the items you store, you can usually buy one from your insurance agent or your storage office for a small monthly fee.
Do I need to buy a lock?
No matter what security features a storage property offers, your lock is important and you want to be sure it's strong, secure, and up to the job of protecting your belongings.
Some self-storage companies provide a free lock when you store with them. As long as the lock is new and tamper-resistant, that's a great value-add for you! If the lock has been used by another tenant you don't want to use it; there's no way to know who may have the key or combination to that lock; pass it up and buy a new one. Same goes If the packaging doesn't state that a lock is "high security" or "tamper resistant."
What should I do when I want to move out?
You will want to notify the storage office before you vacate your unit. How much notice you need to give, and whether that notice needs to be in writing, will be addressed in your rental agreement. It's important that you follow the correct procedure for terminating your rental so that you don't accrue additional rent or other charges.
Beyond notice, be sure to completely empty your unit and make sure it's clean when you leave by sweeping it out, dusting off any shelves you may have used, and wiping up any spills you may find.
What else do I need to know?
Your self-storage company may have specific rules or policies that others don't, but these should be clearly spelled out in either your rental agreement or some other document you're given at the time you sign up.
You might also receive a list of items that are not permitted in storage. This is likely to include things like:
Fuel and explosives

Weapons and ammunition

Drugs

Foods

Chemicals

Leaky containers
Your storage company may prohibit the use of your unit for manufacturing, auto repair, band practice, or other activities. There may be other restrictions as well, so be sure to read the rental agreement and any addenda carefully.
All of these limitations, of course, can be clarified by just asking your self-storage staff about them.
Are there benefits to self-storage that I may not have considered?
YES! In addition to the obvious benefit of being an affordable way to protect your property, self-storage offers benefits and options that you may not have considered.
For instance, you might find that you can rent a mailbox at your storage office, which could be very convenient for you. Many self-storage companies also offer shelving rental for your unit, which can help keep your unit organized and is especially helpful if you'll be in and out of your unit on a regular basis.
Your storage company may also offer business services in addition to storage. Fax and copy services, delivery acceptance, extra-large spaces for contractors, multiple space discounts and, in some cases, 24 hour access to some spaces.

Don't forget to look for the free stuff, too! Do you get a gift on your first visit? Often, these gifts are useful items or gift cards; a commuter mug is always a good thing! As previously mentioned, there may also be a free lock when you rent storage; this can save you some real money!
Other storage benefits might include the free rental of a move-in truck, drive up units, sales of boxes and packing supplies, additional security for more valuable items, and gift card giveaways throughout the year. Look for offers like these when you're considering self-storage since they add both value and savings to your storage experience.
And finally, don't overlook the value and benefit of an experienced, helpful, friendly staff. Your self-storage professional should be able to offer answers to your questions and advice on how to store and protect your belongings. If the person you're talking to doesn't seem to know what they're talking about, reconsider that company; the person behind the counter should be able to help you with all of your storage needs, including storage ideas and information.