Store Your Vehicle the Right Way!
by NW Storages on 01/08/18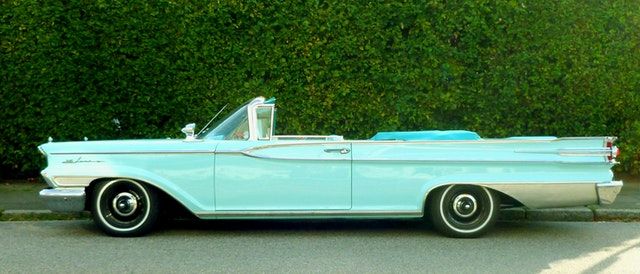 Self-storage is a great option for your possessions, but it's not just boxes and beds you can store! Let us show you why and how to store a car or truck when it's not in use.
Why store your vehicle?
Storing your car, truck, or even golf cart, can be a great choice for various reasons. Perhaps your vehicle is collector's item or a classic; keeping it safe and out of the weather, off the streets, is protecting your investment while keeping it safe from damage.
If your car is just a spare, that you don't drive often (perhaps you're saving it for your teen!), storing it will save garage or curbside space, help prevent accidental damage, and possibly lower your insurance rates.
You may need just a short-term bit of storage while you're away on an extended vacation or business trip. Self-storage can usually be used for a few weeks to a few months; many facilities offer the flexibility to pay for storage only as long as you need it, rather than insisting on a long-term contract.
But aside from weather, insurance, space, and protection, storing an unused, or rarely used, vehicle can bring you peace of mind by keeping it safe and secure.
What to look for in vehicle storage.
When you decide to store your car or truck, there are an abundance of storage facilities that can accommodate you. However, you want the best storage facility for your particular vehicle and circumstances. Here are a few things to consider when thinking about storing a vehicle.
Security: In general, you'll want to carefully check the security at every place you tour; fences, alarms, gated access, video surveillance, and other protection measures are all worth noting. It's not just weather and traffic that can cause damage to your vehicles, either; unprotected storage can allow for vandalism and even theft. The more security in place, the better. Even you old "beater" deserves great protection.

Access: You may need access to your car at times. Make sure the facility's hours are compatible with your own. You may prefer 24-hour access if you can get it, but just be sure that you'll be able to use your car when you need to. If you plan on leaving the vehicle for a long period of time, you may still want to check on it from time to time to start the motor or just check things out.

Climate: There is much to consider here. Indoor or outdoors? Heated or not? Open or covered? If you're storing a classic car or a collector's vehicle, or if you're going to leave your truck in storage for an extended period of time, a heated or climate-controlled storage space can prevent rust, corrosion, and other damage. For short-term or intermittent storage, heated storage can still be worthwhile but, at the very least, look for a covered space that will provide protection from the elements.
How to prepare your vehicle for storage.
Putting your car, truck, or other vehicle in storage requires a certain amount of preparation in order for the best outcome. Making sure your vehicle is ready for storage will ensure she'll be ready to roar down the road when you're ready to drive her again.
Change the oil. This will ensure that your motor is protected with clean lubricant and a fresh filter. Acids and other damaging by-products of combustion can build up in dirty or old oil and cause problems for your engine, even when it's not being driven. Knowing your oil and filter are clean will let you relax while your car is in storage.

Wash and wax it. This seems like a no-brainer, but it's often overlooked. Even your older car will do better in storage if it's clean and the paint protected with a good coat of wax. Besides, when you're ready to pull your car out of storage, it'll look great rolling down the road.

Use a car cover. Even if your car is being kept indoors in a climate controlled unit, a fabric car cover will keep dust and debris from accumulating on, and possibly damaging, your vehicle's surface. Breathable fabric will also help prevent mildew, rust, and other consequences of moisture.

Invest in a set of jack stands. Unless you plan on driving your stored vehicle regularly, getting the tires up off the ground is definitely a must. Cars left sitting for any length of time can develop flat spots on their tires, which will result in a bumpy ride when you retrieve the vehicle. In many cases, particularly low-profile, high-performance, or speed rated tires can develop permanent flat spots that will require an expensive tire replacement. Save the headache, and the money, but jacking your car up and putting it on jack stands during storage.

Use a fuel stabilizer. It's recommended that you store your car fully fueled, however your storage facility may prefer that you don't. Either way, it's impossible to completely empty the fuel tank, so a fuel stabilizer is a good idea. This will help keep moisture from invading your fuel lines, among other things.
When you're done storing.
Upon retrieving your vehicle, check it over. Make sure it starts properly and check to see that no warning lights are on. If you've stored for a long time, you might want to have a mechanic look your car over to be sure everything is in good condition. If there was fuel in the tank when you stored, it's likely a good idea to drain it and get fresh gas.
When storing your vehicle, the best results are obtained with the best preparation. Take your time, notice details, and make sure your vehicle is ready to be stored for a month or for a year or even longer. These steps will help protect your car or truck and let you take the car out of storage in the best possible condition.