Self Storage is a GREAT Mother's Day Gift!
by NW Storages on 05/10/18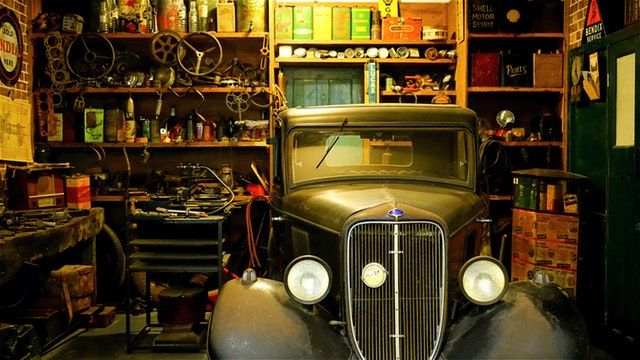 Still haven't found that perfect, thoughtful, fantastic Mother's Day gift that'll show your mom just how much you love and adore her? Not looking forward to joining the last-minute shoppers at the local mall or jewelry store? Well, worry no longer. Self-storage is the answer! Keep reading to see exactly what we can do to make your Mother's Day gift stand out from the rest.
Self-storage for Mother's Day? Absolutely! Everyone - every mom - has clutter, extra stuff, or other things that make self-storage a great gift for your mother. Or anyone else, for that matter. Keep reading to see exactly what we can do to make your Mother's Day gift stand out from the rest.
Mom's Got Stuff
You know your mom has a lot of stuff. She's lived a while, she's made a home for her family, raised her children, had a career and some hobbies, and accumulated a few things she loves and would never want to part with. She's also got plans going forward. These may involve relocating, or just remodeling her present home. She may be worried about damage to prized pieces of art or furniture. Or, she may just be looking for a little bit of change to shake things up in her world. Whatever the reason, renting your mom a self-storage unit can make her life a lot easier.
Why Self-Storage for Mom?
Whether she's 35 or 75, your mom has a life. Changes in circumstance, changes in priorities, even changes in her health, all mean that she may need to make some changes in her day-to-day, as well. That's where self-storage comes in. From downsizing her home to a remodelled bedroom, from securing precious items to painting the living room, self-storage can make your mom's life easier and less cluttered.
Reasons to Rent Mom a Self-Storage Unit
Is your mother's garage full of stuff? Does she still have your little red wagon, your skateboard, and your twin bed out there? Is that a box full of disco clothes and platform shoes out there? Whatever she's got in her garage, it's taking up space that could be housing things Mom has more immediate use for. Consider renting a storage unit, cleaning your mother's garage out, and taking all that stuff she can't bear to part with to self-storage for her. You'll make your mom's life a little less cluttered while also letting her relax, knowing her things are safe.

Maybe your mother would like to remodel or redecorate her home. All that paint, plaster dust, and sawdust can represent a danger to furniture, art, books, and rugs. If your mom has mentioned a desire for a new look in her house, you can help her out in a lot of ways. Besides offering up your labor (for free, of course!) and time, you can help her protect her favorite chair, end table, or other furnishings by transporting it all to a self-storage unit you've rented for her. Whether you need to store things for one month of three, self-storage will let your mom work on her living space without worrying about the safety of her belongings.

Mom (or Mom and Dad) might be wanting (or needing) to downsize her living situation. Whether she wants less space to maintain or she's moving to a retirement community or assisted living facility, a smaller abode makes it necessary to reduce the amount of furniture, decorations, and other household items. Rent mom a self-storage unit, help her move things into it, and she can change her living situation knowing that the things she loves are easily accessible whenever she wants to add to or take from the unit.

Does your mom have a lot of things that are important to her, but that may not be needed on a daily basis. Old photos, artwork, keepsakes, even jewelry, can be moved to a self-storage for safekeeping. They'll be easily retrieved when needed, but they'll also be well-protected in a secure facility, safer from damage or theft. In addition, if your mom travels a lot, or if she plans on taking an extended trip at some point, having her favorite things in a safe place will make her journey that much better.
No matter why your mom will benefit from self-storage, you can make it easy on her, and renting a conveniently accessible storage unit and helping get her belongings into it is a great Mother's Day gift that will definitely help you achieve Most Favored Offspring status for months to come. Well, at least until you forget her birthday!