Moving 101: Pack It Up Right
by NW Storages on 08/24/17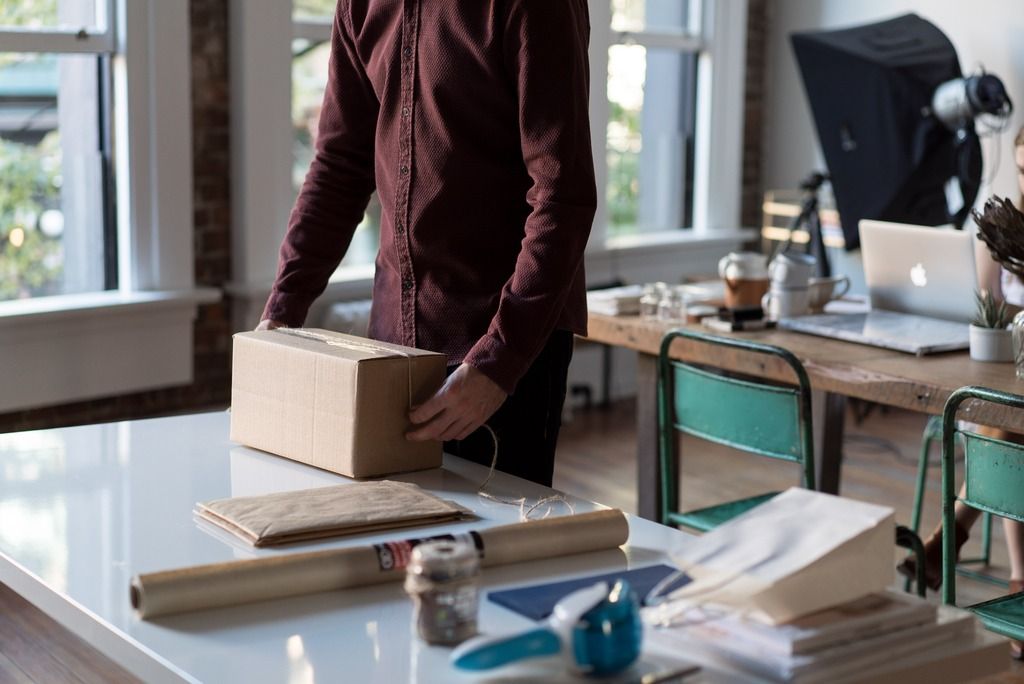 Alright! You've got your boxes and supplies, and now it's time to pack those babies up! As with all things related to moving, you have some options as to how to load boxes for your move. You can throw things in without concern for order or weight and just expect to have to dig to find what you need when you get to your destination. OR. You can throw in a little extra time and patience now, to save work and frustration later. We recommend the latter, of course.
It's time to pick a corner and start. Pack each room separately and label the box, so you know what's inside and who it belongs to. Be sure to distribute weight evenly and don't overpack any one box. Use the right box for the job. Easy, right? Yeah, sure. But, we're here to help, so our handy dandy guide to packing your house is below. Enjoy.
Be sure you're using the right box!
As discussed in a previous post (8/11/17 - Supplies Come First), there are specific box types for specific purposes. If your first order of business is to pack the kid's rooms, the kitchen, or the book cases, choose the box designed for that purpose. For toys, clothes, non-breakables, CDs and movies, linens, kitchen tools, or the like, a general moving box, medium or large, will do. Use book boxes, wardrobes, and electronics boxes as appropriate.
Now, grab the tape, labels, and markers, drum up some enthusiasm (or at least determination) and get to packing!
Tips and Tricks
Designate "Packing Central." Choose a room or corner of your house, or the garage, as an organizational point. Keep assembled and folded boxes, rolls of tape, markers, scissors, labels, and packing material here. This will make it easy to keep track of all the supplies you're going to need. A portion of this area can be used to stack filled boxes out of the way, too. A basket, box, or tote bag is good for keeping smaller items, like scissors and pens, to prevent misplacing them. Need to carry some of your supplies with you? An inexpensive waist-pack keeps items handy while giving you a place to keep them when not in use.

Get an early start. A few weeks ahead of the move is a good time to get this process underway. Begin by boxing up things you know you won't need before moving, like books, tchotchkes, out-of-season clothing, and similar items. As the time to move gets closer, you can start packing other items.

Labels Make Things Better. Don't forget to label your boxes in a couple of places. Two or three sides, different corners, on top… whatever makes sense to you. Label as you go, so you don't have to reopen boxes to figure out what's in them. The time and effort you put in here will be well worth it on the other end of this project!

Set aside a "DNL" box. There are things you will run across as you pack that you're going to want to have available to you at all times. A child's favorite blanket, your e-reader, your travel mug, or whatever else is necessary to your daily life. Assemble a box for these items, mark it as "Do Not Load" and keep it away from the boxes you want put on your truck. Load this last, unload it first at your destination, and never have to be without the things you need.

Weight management is a thing. Don't overload your boxes. It may seem like a good idea to load all of your books into one big box, but unless you've got The Rock to help unload your truck, it's not a good idea. Distribute weight as evenly as possible across boxes. Book boxes are smaller for a reason, but even here, you can pack a few hard backs, a few paperbacks, some manuals, magazines, or other smaller reading materials. This applies to everything else, too. Pots and pans can be heavy, so divide them among your kitchen boxes and pack other stuff in with them. The goal is to be able to carry your boxes around without straining yourself.

Wasted space is… well, wasted. Empty space costs you money in the long run. By using your empty washer, dryer, dressers, or other container-type furniture, you may find you can use fewer boxes and rent a smaller truck. Therefore, any furnishings you have that can hold other things, should. Use stretch wrap, bungee cords, or rope to secure dresser drawers after you've packed them full of clothes. The washer is a good place for towels and linens, as is the dryer. Be creative with this and save yourself time, space, and your hard-earned money.

Protect your investments. When it comes time to load furniture and other big items on the truck, be sure to do what you can to help prevent damage. Cover things with moving blankets, cardboard, heavy paper, even your own blankets and towels, so there's no scratching or rubbing going on. Televisions, computer monitors, and other electronics should be in special boxes, but other items need to be protected, as well.

Pack in parts. If you do a room at a time, and don't move on until the last room is fully packed, you'll make clearly measurable progress (which is great for your motivation) and you'll also minimize the chance of leaving something behind. Finish a room, double check it, and move along. It's so much easier to do this than to keep going back and forth from room to room, moving things around, and even misplacing things.

Be ready ahead of time. Don't schedule the movers or rent your truck until you're sure you'll be done. You don't want to have to reschedule a couple of times, or pay for extra rental days, because you scheduled things too close together. Give yourself plenty of time to pack, with an eye toward being done at least a day before the truck or movers are due. Hence, item number two on this list: Get an Early Start.
One last tip: If you're going to be in your new town before your house or apartment is available, you're going to need a place to keep your belongings. Many moving companies will hold your items for a limited time, but if you need longer-term housing for your belongings,
rent a storage unit in your destination city
. Many storage companies will accept delivery for you; you can work out all the paperwork, finances, and other particulars over the phone and internet.
Having a storage unit
ready to go is especially important if you have a rented truck; getting that truck unloaded and back to the rental company is a big consideration and the quicker you do it, the more money you save. If you anticipate that a storage unit will be helpful in your move, then setting it up before you hit the road is a good idea.