Moving 101: Loading Your Truck
by NW Storages on 09/01/17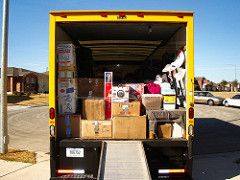 Packing up your moving truck is a big part of your DIY move. In addition to getting all of your belongings into the truck, you want to get them in right; you don't need your load shifting or items coming loose and rolling around the cargo area. When packing, you should aim for a secure load, packed as tightly as possible, and with good weight distribution.
You'll need more supplies for this part of your move. In addition to packing blankets and filler items (like towels, pillows, and bedding) you'll want to have some stretch wrap, cargo bars, bungee cords or rope, and a hand truck or dolly. Tape is a must-have, as well. Your goal here is to protect your belongings while keeping them restrained and as motionless as possible.
As you begin loading your truck, keep in mind that you'll be stacking things, so stable, level layers are important.
Lay a tarp or plastic sheeting on the bottom of the cargo area before you start loading the truck. This will protect your furniture from dirt and grime that may be present. Use tape to secure the covering to the floor of the truck so it doesn't shift around while you're working.

The first things to go on the truck should be the big, heavy items. Appliances and furniture need to be placed to the front of the truck for balance and weight accommodation.

Use your hand truck to load these items so they can be more easily maneuvered into place.

Disassemble anything you can; smaller pieces and components are easier to pack. Use ziploc bags to keep screws, nuts, and other fasteners together, then tape those bags to the underside of the item they belong to.

Mattresses and sofa cushions can be used to insulate and protect other items.

Secure drawers and doors so they don't open during the trip. One easy way to do this is to pack things so that drawers and doors are up against the walls of the truck.

When you're putting in things like tables and dressers, packing blankets or other insulating items will protect surfaces; use tape to secure the protective materials in place. Be sure to pack things like large mirrors and glass table tops in a lot of insulation to protect them well.

Stack things carefully, working toward stability. This is where stretch wrap, rope or cord, and cargo bars come in handy. As you create stacked columns of furnishings and appliances, you can use these items to lock them in place and keep them from moving around during transit.

When packing your bookcases into the truck, keep in mind that the book boxes you packed will probably fit in the cases. If you are able to get the boxes into the shelves, you'll be saving a lot of wasted space; same goes for packing items inside dressers.
Once the front end of the truck is loaded and secured, you can begin packing your boxes in.
Heavier boxes go on the bottom. Medium weight boxes can be stacked on these, while lighter boxes go on top.

As much as possible, make your layers out of boxes of similar size, to create a stable base for stacking.

Stabilize as you go by using rope or stretch wrap to bind stacks together and keep them from shifting.

Use small items and pillows, blankets, towels, and other flexible items to fill in gaps in your layers and stacks. Tightly packed, well wrapped stacks are your goal here.

Keep items like floor lamps, mops, brooms, and such for last, then lay them on top of your stacks. You can tape or tie them down to keep them from moving around.

Well packed fragile items should be the last thing to be loaded on the truck. Place them on top or in openings and crevices in your stacks.

Once your furniture, appliances, boxes, and everything else are loaded up, use load lockers, strapping, or more rope to secure the entire load. The more reinforcement, the better.
Properly packing the truck may take more time than you might have expected, and it will certainly be a bit of work, but in the end, all that time and effort is going to pay off for you. A well-loaded truck will make your move better and easier, since you won't have to worry about damage to your belongings. You also won't have to worry about the problems caused by a shifting or unbalanced load, problems that can include poor truck handling and other dangerous conditions. In the end, carefully packing, protecting, and securing your load will make your move safer and less stressful; arriving at your new home with all your belongings intact and in good condition will be worth all the work now.