10 Common Reasons to Use Self-Storage
by NW Storages on 09/20/18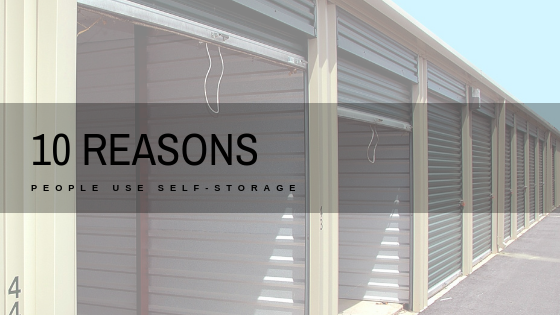 Life is full of changes, upheavals, and unexpected opportunities. Whether they're good, bad, or just different, all of these things can bring with them complications. Self-storage can often be a big help when dealing with these challenges and surprises by keeping your belongings safe, dry, and protected while you deal with your life! Check out this list of the ways self-storage can help you cope with the things life might throw at you.
Not enough room at home
Holding on to belongings that are no longer in use, like an old hutch, a spare bed, home entertainment components, or even a vehicle, is not uncommon, particularly if they are still in good condition. People hold on to these items in anticipation of needing them again someday, passing them on to their children, or even just out of sentimental attachment. Whatever the reason, these kinds of things take up lots of space, so keeping them at home isn't always the best plan. Store these future-needs in a secure storage facility to keep them safe, dry, and out of the way.
Relocating
Many folks find themselves in the position of moving out of a current house before they've got new digs arranged. They may be waiting for their old home to sell before buying another, or perhaps they've been relocated for business and simply haven't had the chance to find a new place yet. Interim housing and apartments often provide very little space for storing your furnishings and household goods. It can be quite helpful to have a storage unit for your packed up household while you wait for a permanent home.
Updating and remodeling
From fresh paint and cleaned carpets to taking out walls and adding closets, renovating your home requires plenty of room and open space; you don't want to be splashing paint on the couch or getting plaster dust inside your electronics! When it's time to change the look and functionality of a house, get things out of the house and out of harm's way by renting a storage unit for a few weeks or months.
Growing your family
When children come along, they need plenty of room for clothes, toys, cribs, and like. This may necessitate cleaning out the spare room or decluttering one child's room to make space for the next one. You may find that you have furniture and other items that you don't want to give up but have no place to keep; put them in a storage unit until you're ready to bring them back home.
Tools
Whether you work for yourself or someone else, if your job requires tools or specialty implements that you have to buy, you want to keep them safe; these things can be expensive and leaving them in a garage or vehicle overnight can result in their theft. Renting a small self-storage locker or closet-sized room will allow you to drop your tools off at a secure facility each evening and retrieve them the next day.
Outdoor furnishings, tools, and machines
When summer becomes fall and the weather cools down, we cease doing yard work and outdoor entertaining. Not only are patio furniture, garden tools, and lawn equipment no longer needed, leaving them outside in inclement weather can cause rust and damage. When autumn arrives, bid your outdoor equipment goodby until spring by storing it somewhere secure and dry; it'll be ready to go when the weather warms up again.
Time off
Sometimes, you just want to get away from it all! Maybe you'd like a year off between high school and college, or between college and the world of work, for any number of reasons. Some folks take an extended leave of absence to do charitable work overseas or see the world. Often, this necessitates giving up your living space for the duration of your time away, but even if not, your furniture and belongings will be safer in a secure storage unit than in an empty apartment or house.
Retirement and the empty nest
Your kids have left for college, but their stuff stayed home; you'd like to turn those uninhabited bedrooms into something more useful, say an art studio or a home gym, but of course they'll need their beds and dressers and all that other stuff over the next few years. Similarly, after retirement, many people find that they'd like to travel, take frequent or extended vacations, downsize their living space, or just divest their homes of things they're not using but want to pass down to family members later on. Whatever the reason, self-storage offers a cost-effective way to hold on to things you don't want to part with but prefer not to have taking up space in your new life.
Summer break
When college lets out for the summer, most students head home or off to jobs and in most cases, you'll be in a different dorm room next term. But dragging all of your stuff home for three months isn't easy! Rent a small self storage unit to keep your things in while you're gone; you can even share a space with other students to save money, too! You'll probably be able to pay your rent online while you're away, and your stuff will be waiting for you when you come back to school.
Crafting and home business
Your business - a service you provide, a product you make, or a craft you sell - needs room your home may not have. Whether you need a place to keep materials, inventory, machinery, or just files last year's files, self storage is a good choice. Your storage facility will offer easy access so you can get to what you need, a secure place to keep important papers and documents, and plenty of room for raw materials, tools, and anything else you need to do what you do. You can often get shelving and boxes to help keep things organized, too.